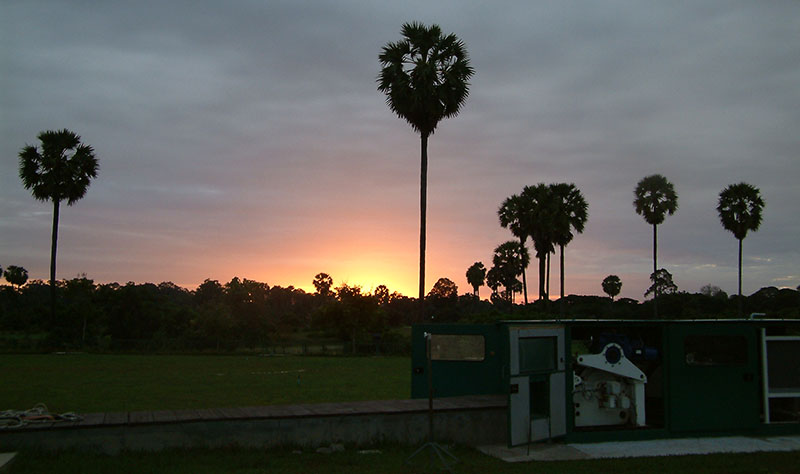 We are pleased to announce the formation of SAM RELIEF, INC. Sam Relief is a non-profit charitable organization dedicated to helping poor children in our country, Cambodia. The organization is named after its founder and President Mr. Sambonn Lek.
SAM RELIEF raises its funds from private donors and donates 100% of the proceeds to poor children and families by providing them with necessities like rice, rice seed, farm equipment, medicine, school supplies, eyeglasses, and children's school uniforms. In additon, we also dig wells, make school repairs and subsidize teachers' salaries. We also provide food for work program for local projects such as creating of access roads and dikes for the poorest rural communities.
We are committed through 2005 to raising sufficient funds to support 2,000 school children with school supplies, food, medicine, and necessary items, as well as the rebuilding of a school building in Prey Veng, Svay Rieng, Takeo, Kam Pong Speu Province, Khet Kan Dal and Kam Pong Cham.
Our organization is neutral and nonpartisan to all political parties in the Royal Government of Cambodia. We are dedicated to serving those in need with whatever amount of funds we are able to raise from our supporters. We are presently focusing on giving chidren ,improving the education infrastructure and providing food and medicine.
I am a Cambodian-American living in the U.S. For several years, prior to formally incorporating SAM RELIEF, I have been collecting funds from friends and guests at my workplace then using the money to buy food, medicine, school supplies and more. Every year during my visit to my homeland in August I have distributed these items to the poor on an ad-hoc basis. As the contributions grew larger and I took on more villages and more complex , I had to incorporate in order to comply with the U.S. laws. The birth of SAM RELIEF, INC. was necessary in order to support and their wishes to attend school. My main wish that "all funds raised from our donors are to be channeled directly to support our poor children in Cambodia" will always remain intact, incorporated or not .That's my unconditional promise to our donors/guests.
Although SAM RELIEF, INC. is in its early stages, we see a bright future for our organization, donors and recipients. Our present and future plans include rebuilding school buildings, providing teacher salary subsidies. We will offer full scholarship to the most deserving student in rural areas deprived of opportunity for continuing his/her studies at the University in Phnom Penh. We will also continue the relief effort you are already familiar with.
I want to express my most sincere thanks you to Mr. William Batdorf, CPA, who volunteered to help us create our organization and to our outstanding Cambodia Ambassador H.E. Eng Roland, my mentor. I have learned a great deal from him and am grateful for all of his kind assistance which includes making the Cambodian Embassy available for our fundraising/inauguration event. Hats-off to my advisors; Mr. Timothy Knowlton and Mr. Don Kroll, Bill O' Connell and Jerry Essenmacher. Also special thanks to my Vice President Cambodochine Dao and my wonderful wife Nara Lek whose undying devotion and constant encouragement has enabled me to accomplish so much in this and other endeavors.
LAST BUT NOT LEAST, I WANT TO THANK YOU TO ALL OUR DONORS/GUESTS; your donations mean so much to Cambodian's children. Even a small gift goes a long way to feed and educate these needy children. We trust that you will continue to contribute to this worthy cause and we truly believe that together we can make a difference.
This is my legacy and I have truly enjoyed it. I am not rich but my heart is!
Sincerely yours,
Sambonn Lek President & Founder
E-Mail: This email address is being protected from spambots. You need JavaScript enabled to view it.