Sam Relief,Inc. and friends without borders announce a newly formed partnership to research and establish a joint effort to build Hospital in Cambodia.
Sam Relief supported Angkor Children Hospital since 2003.
Sam Relief for the past seven years has funded the 79 tons of rice for the hospital FWB operates in Cambodia. Both of organizations realize the health and educational of Cambodia youth.
Together we can support the community and help build the lives of the youth of tomorrow.
One of my favorite of this trip was a visit to a local Hospital in partnering with Friend without Border, Sam Relief donated 10 tons of rice to the Hospital so the sick children will be fed for up to one year. We will expend our relationship with Friend Without Borders. This visit to the Children Hospital in many ways changed of looking at life. The gratitude in the children eyes at being giving food touched my heart to its deepest.
As you see our efforts are critical in helping the local children live a healthy and Happy life and grow up to become successful adults.
We need your help for 2008 poject. We need 20 tons of rice to assist their needs.
One ton of rice is $350.00 ( for 2012)
Please send check to Sam Relief,Inc
17505 Amity Drive
Gaithersburg MD 20877 USA

If you wish to have your picture at the Children Hospital Website, please send your closed up picture and send it to
e-mail to This email address is being protected from spambots. You need JavaScript enabled to view it.

April 2012 we donated 10 tons of rice. So far we donated 100 tons of rice to Angkor Children
Hospital at Siem Reap.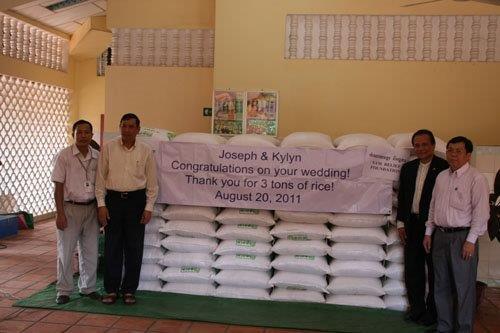 April 2011 we donated 10 tons of rice.Up to date we donated 90 tons.
August 2010, Sam Relief donated 10 tons of rice to the Angkor Children's Hospital of Cambodia, which will feed the patients for 12 months. While we were there in August, we fed the children who were waiting for medical attention. Some needed to wait for days
Angkor Children Hospital at Siem Reap 2005
Open ceremony for delivering 10 tons of rice
Mayor Roger C. Claar donated 10 tons of rice 2005
Now it costs $300.00 per ton of rice for 2005
Sick children are waiting in line to see doctor
2006 Jack Rose Club donated 10 tons of rice

Thank to Mr. John Gagosian and Mr. Mark Zaineddin who
do fundraising at the Mayflower hotel to help children
Hospital at Siem Reap.(The Jack Rose Club)

2007 Mayor Roger C. Claar donated 10 tons of rice
Mrs. and Mayor Roger C. Claar
2007 Mr. William Batdorf donated one ton of rice
2007 Mr. Donald Kroll donated one ton of rice
Mr. Robert Harnett donated one ton of rice for 2007
Mr. Dan O'Shea donated one ton of rice for 2007
2007 Mr. Ted Lierl donated one ton of rice
2008 Fundraising for 20 tons of rice for children hospital
Thank to Mr. James Miller, Geogia Power who donates $500.00 for the rice to Children hospital for 2008



Thank to Mr. Rex N. Boyd who donated $200.00 for the rice to Children Hospital for 2008


Thank to Mr. Michael O"Bannon who donated $1,000.00 to the Children Hospital for 2008

Thank to Mr. Alan Kline who donated $1,000.00 to Children
hospital for 2008

Thank to Mr. Patrick Roxworthy who donated $1,000.00 for Children Hospital for 2008

Thank to Mr. Sean Sand who donated $250.00 to Children
hospital for 2008

Mr. Davis Martin donated $400.00 to the Children Hospital for 2008
2009 appreciation letters from Angkor Hospital for Children to
all donors.
Mr. Alan Kline
Bob Harnett
Ms. Chanthary Koch
Ms. Demaz Baker
Mr. Jeff Doctor
Mr. Jon Blankenship
Dr.Kevin Coughlin
Ms. Kunthary DeGaiffer
Ms. Mealy Chhim
Mr. Michael Fontham
Sam Relief,Inc
Ms. Sovie Hum
Mr. Stephen Dammann
Ms. Vilayleak Cheng
Mr. Wilson Golden
2009 picture
2009 picture
2010 appreciation letters from Angkor Hospital for Children to
all donors
Mr. Dan Ruskin
Mr. Davis Martin
Mr. Donald Kroll
Mr. Joe Bross
Mr. Kenneth Dyer
Mr. Michael Fontham
Mr. Jon Blankenship
Mr. Robert Hartnett
Sam Relief,Inc
Ms. Vilayleak Cheng
2010 picture
2010 picture
2011 appreciation letters from Angkor Hospital for Children to
all donors
Mr. Chuck White
Mr. Davis Martin
Mr. Maike Patel
Mr. Norman Ray
Mr. Dan Ruskin
Ms. Chanthary Koch
Senator Philip Hoffman
Ms. Sovathary Hum
Ms. Vilayleak Cheng
Sam Relief.Inc
2012 appreciation letters from Angkor Hospital for Children to
all donors
Chanthary Kock-Kuy
Dan Ruskin
Davis Martin
Don Kroll
Gary Marco
Lawrence Schmidt
Malissa Arcand
Mike Matel
Russell McKinnon
Susan Donnelly
Sam Relief
Vilayleak Cheng