2006 has been quite year for Sam Relief and I wanted the opportunity to thank each of you for your support, friendship and prayers.
This year with your help we built four schools. As well, we dug 45 clean water wells, donated 40 tons of rice and school supplies for 3650 students . We should be proud of this immense accomplishment.
Sam Relief, Inc. continues to grow with support and assistance from friends in the United States . 2006 will be the best year for my foundation to date.
 Wells
Appreciation Photo
Gallery
2006 Gala
| | | |
| --- | --- | --- |
| | | |
|   | Thank you to Mr. Aaron Horton, Mr. Chris Flanagan, Mr. John Broderick, Mr. Jim Riley and Mr. William Eldien, President of Ketel One for donating Ketel- Vodka for the past four years. | Thank you to my friend Miguel Castro and his friends who are playing Music for us tonight. |
It was overwhelming beyond my expectation at the success of this 2006 Fund Raising Gala. at The Ritz-Carlton Hotel Washington DC on May 3 rd 2006 . Especially from all of you, any contribution, that will certainly bring joy and happiness to children in Cambodia.
Sambonn lek's Speech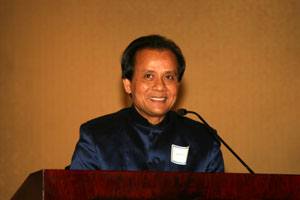 Good evening ladies and gentlemen.
First I want to thank Ms. . Annie Boutin King and Ms. Colleen Evans who offer us this room for tonight's Gala.
It is an honor to be here and to have so many friends like all of you, who come to support my foundation, Sam Relief, Inc.
Thanks to my wife, Nara , who puts up with me everyday when I sit in front of my computer to work on Sam Relief projects. Thank you to all the members of my Board of Advisors:
Mr. Bill Batdorf.
Mr. Clifford Laughton,
Mr. Stephen Meagher,
Mr. Bill O'Donnell,
Mr. Jerry Essenmacher,
Mr. Don Kroll,
Mr. Joe Bross,
Ms.Elizabeth Updike – for all of the assistance given.
Sam Relief just promoted Ms. Margaret Mathes as Vice President of Sam Relief. Margaret has helped Sam Relief since 1999 and has raised more than $30,000 in Lowell , Massachusetts to assist Sam Relief.
Thank you to Mr. Aaron Horton, Mr. Chris Flanagan, Mr. John Broderick, Mr. Jim Riley and Mr. William Eldien, President of Ketel One for donating Ketel- Vodka for the past four years.
Thank you to Ms. Karen McMullen who donated two cases of wine for Auction.
Thank you to my friend Miguel Castro and his friends who are playing Music for us tonight.
I would like to express my deep gratitude and thanks to Mr. Clifford Laughton who donated more than $100.000.00 to build four schools and sponsored a student to attend school.
His five classroom JSM School is being built at Koh sotin Khet Kam Pong Cham.
I especially want to say, "hats off" to my friend Steve Meagher who I have known for the last 30 years.
He also donated three schools. His five classroom facility is now being built at Svay Rieng Province.
Thank you Senator and Mrs. Philip Hoffman who generously donated $25,000.00 to build a five classroom, Lumen Christi school at Tmor Kor Khet Kandal.
Thank you to Liz Updike who worked hard to raise $10,000.00 tonight to build the second Olivia Schools at Bakoo, Khet Kan Dale. and donated $25,000.00 from her own money to build a new Olivia Schools for 2007 project.
Thank you to Pete and Rose who joined us last year 2005.
Thank you to Mr. Barry Cochran and his friend Rolen, CULLMAN REGIONAL MEDICAL CENTER, Dr. Chrea and Dr. Sayni who have donated Tylenol over the past four years.
This year we will have four schools to dedicate including educational supplies for over 4000 students.
Again, we will assist the handicapped students by giving school supplies, 10 wells and 10 tons of rice at Koh sotin Kam Pong Cham Province.
So far we have built 12 schools and dug 350 wells for the neediest people in Cambodia.
Sam Relief will help - Friends Without Borders – by providing 10 tons of rice to the children's hospital. Last year 2005 those 10 tons of rice were sponsored by Mayor Roger Claar.
In March 2006 I was privileged to be able to make a short trip to Cambodia . On each trip, I am able to witness the wonderful accomplishments and projects that Sam Relief contributes to. I visited all the schools:
Stephen Meagher schools at my home town of Svay Rieng , we will dedicate on August 1 st 2006.
Olivia schools at Khet Kan Dale , we will dedicate on August 2nd, 2006.
Lumen Chriti School at Tmor kor khet kan Dal, we will dedicate on August 5,200.
JSM schools at Koh Sotin Kam Pong Cham Province we will dedicate on August 6, 2006.
It will be a great honor to have the Ambassador of the United States to Cambodia , Joseph Adamo Mussomeli, to attend the dedication ceremony for one of those schools.
This past year, farmers in Cambodia have had a very rough time due to a lack of rain. The diminished amount of crops creates a higher poverty level. When Sam Relief donates a ton of rice, we are literally saving lives. While in Cambodia I worked on the preparation for the 2006 relief mission in August of this year.
I am excited about the projects that we are working on. Our mission has a positive effect on the heath and livelihood of the people in my country.
One friend that we deeply miss tonight is our former Cambodian Ambassador, Roland Eng, who has put his heart into helping Sam Relief for the past years. Sam Relief returns his generous support by aiding his orphanage and enabling 50 Students to attend school. As well, we are sponsoring 54 students to attend school and university. Altogether we have 104 students to take care of this year.
2002 We raised $ 18,000.00 at the Cambodian Embassy.
2003 We raised $ 26,000.00 at the Ritz-Carlton.
2004 We raised $ 52,000.00 at the Cambodian Embassy.
2005 We raised $108,000.00 at the Ritz-Carlton.
This year we sent out 620 invitations. Of the 250 responses, 100 are here tonight; 150 could not attend but have sent donations. Thus far in 2006 we have raised $ 171,000.00 as of tonight!
We have many applicants asking Sam Relief for schools.
For 2007, we have a commitment from Mr. Gary Bremer to donate $10,000.00 to build a new school as well as we will Olivia School at Kirivong, Takeo Province.
We will respectfully ask Mr. Clifford Laughton, board of Advisor of Sam Relief to donate JSM schools again at Koh Sotin Kam Pong Cham Province at different town.
Again, my deepest thanks to all of you and to my Sam Relief team for tonight.
Thank you so much to Mr. Joe Bross who produced and donated this DVD.
Thank you to all my LOL friend, my daughter Bonnary and my sister Sokhary and Tam our Ketel one Bartender who work hard this evening.
hank you Clair Tesh for helping auction.
Thank you to all generous donors who donated but couldn't attend tonight.
Please enjoy your evening,
Sambonn Lek
President & Founder
Sam Relief, Inc.
Pete Sather Speech
Thank you Nara , and thank you for the opportunity to speak this evening.
I have so much to tell everyone about the amazing trip that my wife Rose and I took where we met the two students that we sponsor. We attended events at schools and hospitals. At these events there were:
High ranking government officials
Highly revered Buddhist monks
Students who danced and sang
We got to hand out medicines to the elderly and needy
But what was truly delightful and what we enjoyed the most was seeing, meeting, and helping the children, and that's why we're all here- Sam Relief helps so many children and families.
I would like to talk to you this evening about:
The two children that Rose and I sponsor and other children that Sam Relief helps
Sam and the tremendous work that he does, and that I have personally seen him do, in Cambodia
Within 2 hours of landing in Cambodia we met the first student that we sponsor, a young girl. She was 7 years old and shy but she smiled at us and was pleased to meet us. We also met her mother and grandfather.
What I remember most vividly is that the grandfather never stopped smiling, he kept bowing his head and saying "Akun, akun," "Thank you." He told us that he considered us all one family and he was very grateful. The mother smiled and thanked us, she was boisterous and happy to meet us.
At first the whole encounter seemed surreal, which could have been a result of the jet-lag, but when it all sunk in, Rose and I were so happy to meet people that Sam Relief helped and see firsthand how grateful they are.
We then traveled to the Kep province along the coast. We met the second student that we sponsor, who lives in an orphanage. Seeing all the children in the orphanage was difficult but what was good was seeing the help that Sam provides including clothes and vitamins for the children. We met our second student, another shy but smiling young girl named Im Southery.
As soon as we saw her, she gave us a gift, a CD and a scarf. These gifts came from someone who has so little, but she made it a point to give us something. We talked a bit as Nara was there to translate for us. We asked her what she wanted to do when she grew up. She said "I want to be a judge. I want to be a judge because I see so much injustice in this world, and I want to change it." This coming from a girl who is just 12 years old. Through Sam Relief she may have the opportunity to achieve her dream, and even if she doesn't become a judge, Sam Relief provides Im Southery and other students the opportunity to change their lives.
Now about Sam, the Cambodian legend as I call him. Sam works tirelessly in that country. Those of us that go to the Mayflower know that Sam works hard- in Cambodia , he works 10 times as hard:
His mobile phone is constantly ringing
He averages 4 hours of sleep a night
Why? You may want to ask….because, there are always more children to help, and more to do. At the school events we attended Sam had built schools, handed out books, shoes and clothes, and other materials that the children need.
Whenever Sam builds a school, he puts the donor names on the school and their picture in the classroom. It's almost as if Sam is saying to the children, "You've been given an opportunity, don't squander it."
Sam will help anyone who needs it but he expects results. He wants a commitment from all of his teachers that they will give their time and prepare their lessons. The students are all expected to attend class and study their lessons.
I hope that I have given you a brief look into the children that Sam relief helps and the work that Sam does. I encourage you to look at the pictures that are set up but I can tell you from my own experience, seeing the students and schools for yourself is incredible.
I hope that now you know, whatever commitment you make to Sam Relief pays dividends worth more than we can all imagine. Thank you.
Ms. Elizabeth Updike's Speech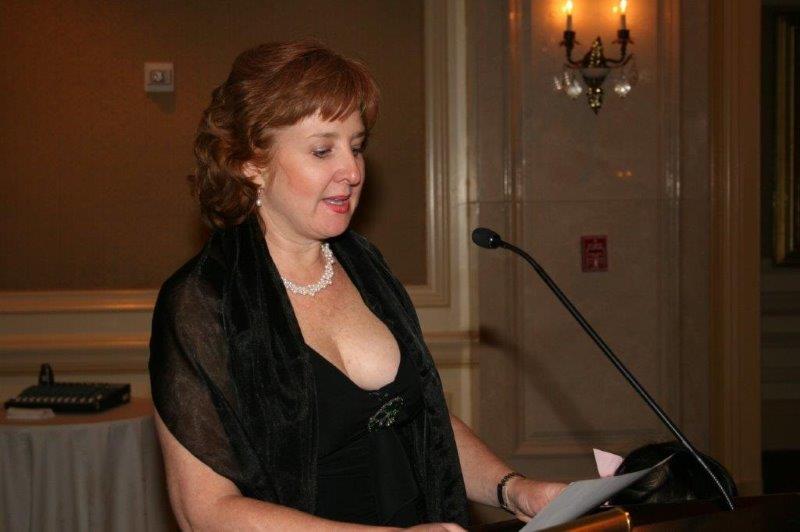 Good evening – thank you everyone for being here tonight, for supporting this event, for supporting the relief work that Sam is doing in Cambodia and for support Olivia's Schools. We are here for the children tonight. I have a special place in my heart for the little children of Cambodia . My daughter Olivia was born in Cambodian and spent her early days as a baby in an orphanage outside of Phnom Penh . She and 125 other children lived in an orphanage with no running water in a village with any school. In fact, 46% of the villages in Cambodia do not have schools to educate their children. Therefore, the illiteracy rate is high, and the plight of the children is questionable. In a place where 1 meal a day is customary – school is a luxury. When I look at Olivia and when I look at the other children who are in that village, I see only one difference – A Zip code. Because Olivia gets to live in this zip code, she gets to lead a completely different life than the children she was born with in Cambodia . She has the hope of a future, and by rights of her American Citizenship, the hope of an education. Without education as a way out of poverty, for the children in the village, there isn't the same kind of hope.
Last year, with your help, we raised $22,000.00 and built a school in the village where the orphanage is located, just outside of Phnom Penh . We planned for a school that would house 325 children. 750 showed up to attend. They walked and if they didn't have shoes, they walked barefooted. We gave them the school, the teachers, the desks, the books, the pens, the paper and even the shoes as well as rice so that they could eat. On the day of the dedication, we saw the light in their eyes, the happiness on their faces and the complete joy and excitement as they celebrated their new school with a 2 hours celebration ceremony. This is something that I will never forget because it is one of those big feelings where you know and can honestly say we made a difference here in these children's life and you can see it.
Olivia and I want to continue to give those children something to hope for. With the help of SAM RELIEF and your donations we will continue to build schools for children in Cambodia . Sam Relief uses 100% of the donations towards building the schools, and for getting the necessary supplies to the children.
Last year, on Olivia's 5 th birthday we dedicated the first Olivia's School. It was a way for Olivia and I to give back to the children of her orphanage and to help provide them with the opportunity for education. This year, we want to build two more schools. Tonight, I would like to donate $25,000.00 to build and supply one of those schools and I would like to thank our sponsors and contributors at Allstate, American Legacy, Genworth, Hartford , Lincoln , Nationwide, Putnam and Merrill Lynch for raising $10,000.00 so far towards a second school. With your help, we get to build two schools this year and make a life changing difference in the lives of children.
Thank you. May god bless you!
Enjoy the evening.
Senator Philip E. Hoffman's Speech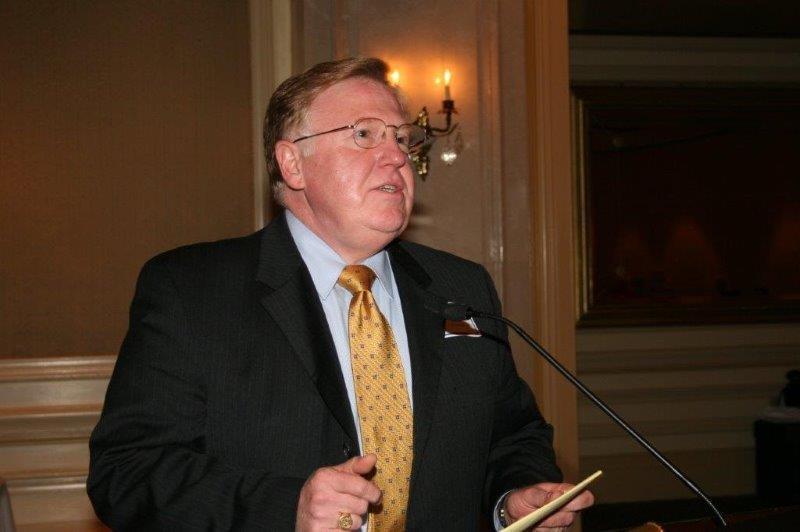 It is an honor for me to be able to join with all of you at the 3 rd Annual Sam Relief Gala Celebration this evening. My wife Dennise was unable to join us tonight, but sends her best wishes to our friends, Sam and Nara and all of you.
When I think of the "American Dream" and what it means to be an "American" I'm not thinking of a Texas cowboy on his ranch with rolling hills and livestock. I'm thinking of Sambonn and Nara Lek. Sam came to America back in the late 70's with a dream. His vision of America was not unlike our ancestors who wanted a chance to live free, and with self-sacrifice and hard work, earn their piece of the American Dream. Sam became an American citizen the old fashioned way, "he earned it." Now, when I think of what it means to be an "American" I think of Sam and Nara . Everyone in this room earned their way into the "fabric of America " the same way; by grandparents, or parents leaving the "old country" to live in a place where they could enjoy the fruits of freedom, a good days work, for a good days pay, and the hope for a better tomorrow.
But that was not enough for Sam, being an "American and living the American Dream." Sam and Nara never forgot about their beloved Cambodia and the friends and family left behind. And like that Texas cowboy, Sam took charge of the situation and made his dream of helping the impoverished children and families of his homeland by establishing "Sam Relief" 8 years ago. Since that time, Sam's vision has become reality. Sam is supplying 1000's of tons of rice to feed the hungry, supplying over 275 fresh water wells for the villages, providing medicine for the sick, clothing the needy, and probably best of all, providing "hope" for his children by providing school supplies, teachers, and building schools for the children of Cambodia.
Sam is also the biggest "cheerleader" I know. He's not as pretty as a Dallas Cowboy cheerleader, but boy can he "root for his children!" Try going to the "Town and Country" and not have him show you pictures of all of his beloved children. How can you not want to help Sam when he shows you those pictures? If you and I didn't help Sam help the children of Cambodia , then who would? Oprah Winfrey, Martin Sheen, Jane Fonda, or Jesse Jackson? I don't think so! Nobody, except Sam and his friends, you and me.
We'll help make a difference for the children and families of Cambodia , thanks to Sam's leadership. Sam and Nara , great Americans, great humanitarians, and they are the best America has to offer. How fortunate I am now to have a great friend I call, "Uncle Sam."