---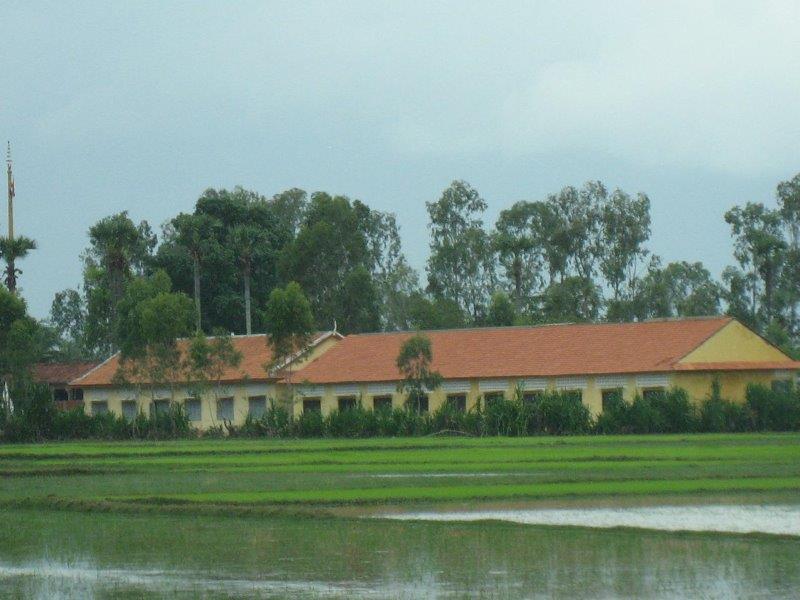 JSM Schools 2005 and 2007 at Svay Rieng Province.
Please mention your check to JSM Schools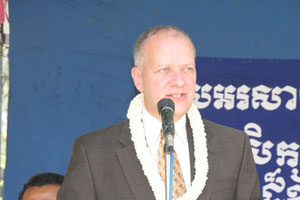 Ambassador Joseph Adamo Mussomeli
U.S Embassy
1, Street 96, Wat Phnom
Phnom Penh, Cambodia
Ambassador Speech on August 6, 2006
At JSM School's at Koh Sotin, Kom Pong Cham Province.
Pleasure to be here to help inaugurate this new school built by the U.S.-based, non profit organization Sam Relief , Inc.
Of course we would not be holding this celebration without the dedication and hard work of Sam Relief 's founder and president , Mr. Sambonn Lek, and the generosity of Mr. Clifford Laughton, whose financial support made this construction possible. So I would like to begin by congratulating them on their accomplishment and commending them for their efforts.
This school fills a void in an area that lacked enough schools to meet the needs of the local population. It will afford more children access to education, a vital link toward their own future prosperity as well as that of their families. More than 750 students in grades 500 are already enrolled and studying hard.
The ancient Greek philosopher Diogenes said that "The foundation of every state is the education of youth," and this is particularly true of Cambodia's current situation.
During the Khmer Rouge era, Cambodia's educational system was destroyed and educated people were targeted for death. But now after years of civil war, peace and stability have returned to this country, allowing Cambodians to rebuild their society. But the country cannot prosper, unless and until there is a good educational foundation.
Education is vital in strengthening Cambodia's most important resource – its people. Basic education represents the foundation on which all else is built. Without improvements here, it will be difficult to encourage community involvement, promote democracy, improve social indicators and provide the skills that Cambodia needs to compete regionally and within the global economy. As Thomas Jefferson once observed: Educate "the people …, and tyranny and oppressions … will vanish like evil spirits at the dawn of day …"
To help build this foundation, the U.S. government will spend approximately $15 millions over a five–year period to improve basic education in this country, focusing on curriculum development and teacher training efforts.
But official U.S. government assistance to Cambodia is not enough. It is also thanks to many private American citizens and charitable organizations – such as Sam Relief, Inc. They contribute hundreds of thousands of dollars a year to help build schools in Cambodia – such as the one in front of you – and they provide school children with needed supplies, and they help train teachers. Additionally, many Americans volunteer their time to come to Cambodia to help teach, especially in the field of English education.
The school that you see before you is more than bricks and mortar – it is a testimonial to the commitment of ordinary American citizens to furthering Cambodia's development.
With Cambodians and Americans working together, we have made tremendous progress, and while there is still more work to be done, this school is but one example of the fruits of our partnership.
Thank you
Ambassador Joseph Adamo Mussomeli
__________________________________________________________________________________________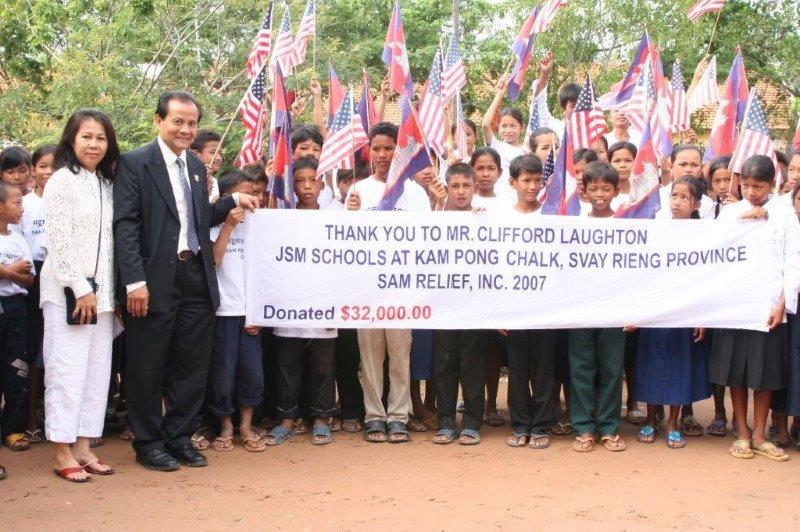 Picture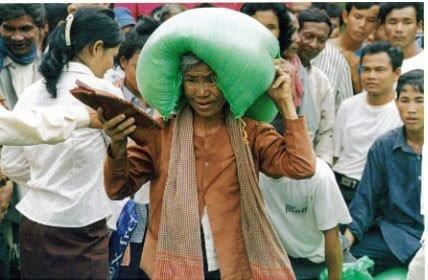 Mr. Clifford Laughton donated 20 tons of rice to the poor people at Prey Veng Province (August 2002)
Thank to Mr. Cliford Laughton who donated 6 JSM Schools.Two schools at Svay Rieng Province with 430 students, two JSM Schools at Prey Veng Province with 480 students and one JSM Schools at Kam Pong Cham Province with 210 students and one JSM schools at Dol, Khet Kan Dal Province with 428 student.  Each year there are numberd of increasing of students between 20 to 40.However, there are numbers of student dropping the schools due to thefamilies condition.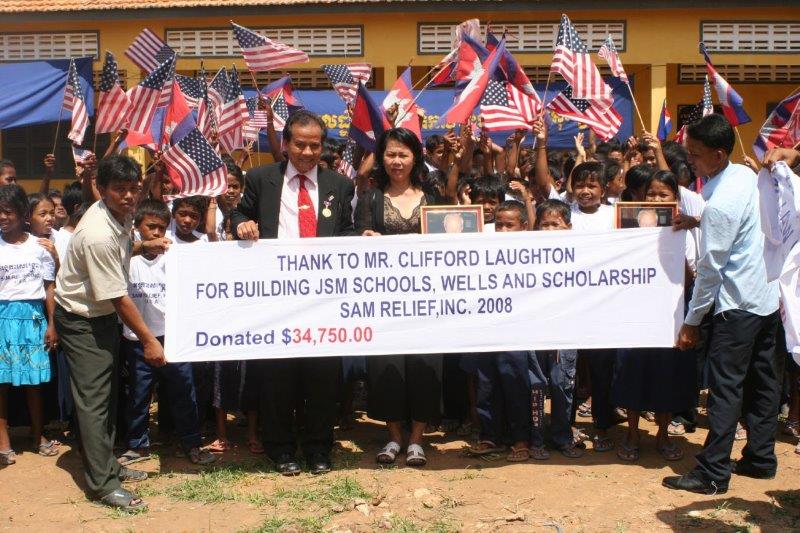 Mr.Clifford Laughton
      Two JSM Schools 2003 and 2004 at Prey Veng 
      Province with 430 students. JSM Schools Picture
     August 6,2006 . He donated one JSM Schools at Kam Pong Cham Province with 210  students. JSM Schools Picture
   It was great honored to have US Ambasador Joseph  
   Adamo. Mussomeli to attend the ceremony at JSM  
   Schools for 2006 at Kam Pong Cham Province

         2007 JSM Schools. July 31 2007
         Two JSM Schools 2005 and 2007 were built next to 
         each  other at Svay Rieng Province.with 430 students.

          JSM Schools Picture

          2005 JSM Schools at Svay Rieng Province

          JSM Schools Picture
 
 
 
 

              Thank to Mr. Laughton who took his time to attend the  
              ceremony at his JSM schools at Prey Veng Province 
              August 2003.

Mr.Clifford Laughton Picture

        Appreciation banner holding by the student for   
        Mr.Clifford Laughton during the ceremony.August  
        2003.
Banner Picture
 
 
                    
This old school at Dol District, Khet Kan Dal Province, two hours from Phnom
Penh city will be torn down and will be built a new JSM schools with 428 students.

We all want to say thank to Mr. Clifford Laughton for 2008 JSM Schools at Dol District, Khet Kan Dal.

               
 
 2008 Five classrooms JSM schools is being built, Jan. 2008
 2008 JSM Schools is under costruction March 2008
2008 JSM schools front view ( is under construction) March 2008
 March 2008
April 2008
May 15, 2008. Tthe JSM Schools is nearly finished

Grand opening ceremony for JSM schools at Dol Commune Distruct
on August 15, 2008

 
 

Thank to H.E Vongsey Vissoth Deputy  Secretary general for the great host of honor for the ceremony.

We donated rice to the teachers
We donated clothing and Tylenol to the parents of the students.

On behalf the people at Dol Commune District, Khet Kan Dal, we would like
to express sicerely thank to Mr. Clifford Laughton who donated $34,750.00 for 2008 to help poor people in Cambodia.

Sambonn Lek and Boards of directors.

Cutting ribbon.

Ann Butay well 2006

Raymond Sweeney well 2006
 
 

 Ed and Cindy Barnett well donated by Mr. Clifford Laughton .  Picture

 Charles M. Beeck well donated by Mr. Clifford Laughton.  Picture
 
 

 
Ann Butay well # 1 donated by Mr. Clifford Laughton 2008         Picture

 
Ann Butay well # 2   Donated by Mr. Clifford Laughton 2008   Picture
 
 Ronald P. Baldwin well #1 donated by Mr. Clifford Laughton 2008   Picture
 
Ronald P. Baldwin well # 2  Donated by Mr. Clifford Laughton 2008 Picture
 
Larry Gregg Well donated by Mr. Clifford Laughton 2008  Picture
 
Stewart Homes well donated by Mr. Clifford Laughton 2008   Picture
 
Richard Caifano well donated by Mr. Clifford Laughton 2008      Picture
 
Raymond W. Sweeney well donated by Mr. Clifford Laughton 2008 Picture
 
Steven Rose well donated by Mr. Cliford Laughton 2008      Picture
 
Warren C. Daspit Well donated by Mr. Clifford Laughton 2008   Picture
 
Brian W.K. Au Yuen well donated by Mr. Clifford Laughton 2008   Picture
 
Scott & Irene Lang well # 1 donated by Mr. Clifford Laughton 2008 Picture
 
Scott & Iren Lang well # 2 donated by Mr. Clifford Laughton 2008   Picture
 
Mitchell and Joanne Lang well # 1 donated by Mr. Clifford Laughton Picture
 
Mitchelle and Joanne Lang well # 2 donated by Mr. Clifford Laughton  Picture
 
Edine and Jason Uchida  well # 1 donated by Mr. Clifford Laughton Picture
 
Robyn Takeshita and Warren Debary well # 1 donated by Mr. Clifford Laughton
Picture

 
Robyn Takeshita and Warren Debary well # 2 donated by
Mr. Clifford Laughton    Picture

 
Charles T. Kleitop well # 1 donated by Mr. Clifford Laughton 2008  Picture
 
Charles T. Kleitop well # 2 donated by Mr. Clifford Laughton 2008  Picture
 
Charles T. Kleitop well # 3 donated by Mr. Clifford Laughton 2008  Picture
 
Charles T. Kleitop well # 4 donated by Mr. Clifford Laughton 2008  Picture
 
 Joanne Lang  2006 well # 1  Picrure
 
  Joanne Lang 2006 well # 2    Picture
 
 
 Edine and Jason Uchida well # 2   Picture
 Ronald Baldwin well. Donated by Mr.Clifford Laughton. Picture
 
 
 Scott Lang well. Donated by Mr.Clifford Laughton,  Picture
 Michelle Lang and Family well.  Picture
 Donated by Mr. Clifford Laughton