---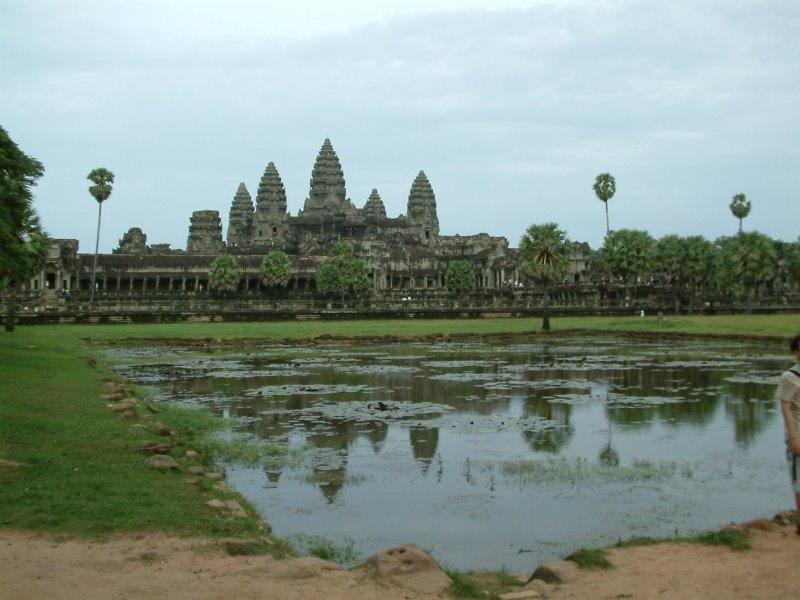 Angkor Wat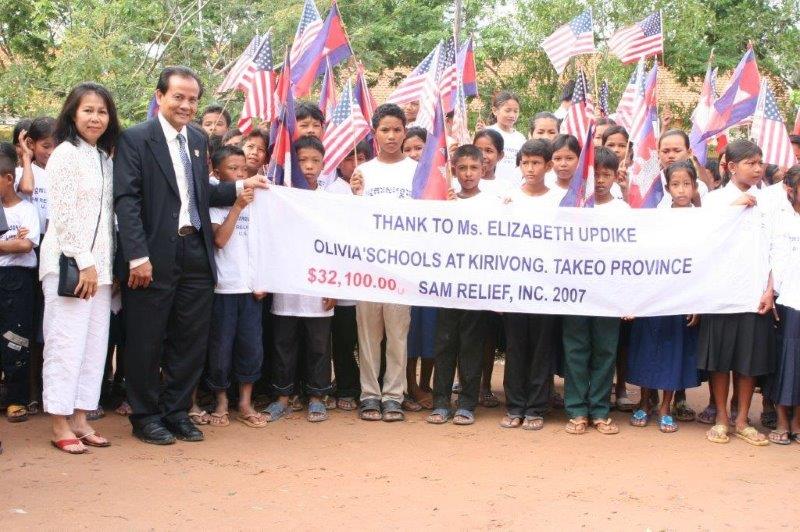 Picture
      Please write check and mail to:
      Sam Relief.Inc
      7507 Sawgrass Terrace
      Montgomery Village MD 20886
      and mention to Olivia Schools
| | |
| --- | --- |
| | |
|       2007 Olivia schools at Tun Lorp, Takeo Province |        Elizabeth Updike and Oliva |
| | |
| --- | --- |
| | |
|      Gala at the Ritz Carton |       Olivia gives schools supplies to the student at her school       Olivia picture |

Gala fundraising at the Ritz Carlton     
Ms. Elizabeth Updike speech --  May 3rd 2006

Good Evening – Thank you everyone for being here tonight, for supporting this event, for supporting the relief work that Sam is doing in Cambodia and for supporting Olivia's Schools. We are here for the children tonight.
I have a special place in my heart for the little children of Cambodia.
My daughter Olivia was born in Cambodia and spent her early days as a baby in an orphanage outside of Phnom Penh. She and 125 other children lived in an orphanage with no running water in a village with no school. In fact, 46% of the villages in Cambodia do not have schools to educate their children. Therefore the illiteracy rate is high, and the plight of the children is questionable. In a place where 1 meal a day is customary – school is a luxury.
When I look at Olivia and when I look at the other children who are in that village, I see only one difference – A Zipcode.
Because Olivia gets to live in this zipcode, she gets to lead a completely different life than the children she was born with in Cambodia. She has the hope of a future, and by rights of her American Citizenship, the hope of an education. Without education as a way out of poverty, for the children in the village, there isn't the same kind of hope.
Last year, with your help, we raised $22,000.00 and built a school in the village where the orphanage is located, just outside of Phnom Penh. We planned for a school that would house 325 children. 750 showed up to attend. They walked and if they didn't have shoes, they walked barefooted. We gave them the school, the teachers, the desks, the books, the pens, the paper, and even the shoes as well as rice so that they could eat.
On the day of the dedication, we saw the light in their eyes, the happiness on their faces, and the complete joy and excitement as they celebrated their new school with a 2 hour celebration ceremony. This is something that I will never forget because it is one of those big feelings where you know and can honestly say we made a difference here in these children's lives and you can see it.
Olivia and I want to continue to give those children something to hope for.
With the help of SAM Relief and your donations we will continue to build schools for children in Cambodia. Sam Relief uses 100% of the donations towards building the schools, and for getting the necessary supplies to the children.
Last year, on Olivia's 5th birthday we dedicated the first Olivia's School. It was a way for Olivia and I to give back to the children of her orphanage and to help provide them with the opportunity for an education. This year, we want to build two more schools.
Tonight I would like to donate $25,000.00 to build and supply one of those schools and I would like to thank our sponsors and contributors at Allstate, American Legacy, Genworth, Hartford, Lincoln, Nationwide, Putnam and Merrill Lynch for raising $10,000.00 so far towards a second school. With your help, we get to build two schools this year and make a life changing difference in the lives of children.
Thank you. May God bless you!
Enjoy the evening!